Muscle Disorders Registry System - KUKAS is online!
01/01/2012 11:00
The development of the project was handed to Uskur by the Department of Physiotherapy and Rehabilitation and İhsan Doğramacı Children's Hospital Department of Peditrics, Child Neurology Unit of Hacettepe University. The aim of the project is to archive and analyze data acquired from medical examinations of patients with neuromuscular diseases. The system enables researchers to easliy reach statistical analysis of gathered data. The project is funded by Association Française contre les Myopathies (AFM).

The system is primarily focused on Duchenne Muscular Dystrophy (DMD) and Spinal Muscular Atrophy (SMA) patients but the flexibility of the system enables it to handle other muscular diseases. Researchers can make parametric changes to the system. These changes enable the reasearchers to modify the data gathered from medical examinations and/or surveys given to patients.
The project was developed using CakePHP and resides on a cloud structure. The system consists of three different parts. One of them is the KUKAS website, built using the Kediy Content Manager, it's aiming to inform patients and give information about the project. The Patient Interaction Center is another part of the system where the patients can register, ask questions to the experts, and take surveys. The third part of the system is KUKAS where researchers and clinicians can log in.
Using the Patient Interaction Center, patients and/or their families can register into the registry and update their information. The Patient Interaction Center is conntected with the KUKAS database. This enables patients to update the status of their disease in the the registry. Also the patients can take scientific surveys using the system
The Muscle Disorders Registry System (KUKAS) has the features listed below (only a portion of them is listed):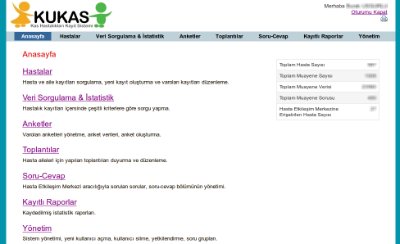 Extended patient record enbaled to save and search information about the mother, father, siblings, and family history.
Ablity to parametricly modify the data collected in examinations using a set of question types.
Grouping of data in any way required.
Ability to create unlimited number of examinations per patient and store data in these examinations.
Reporting of all data gathered for a patient in different examinations and automatic generation of graphs for appropriate data types.
Filtering according to patient and examination data. Statistical analysis of data filtered and automatic generation of graphs for appropriate data types.
And many other features...
KUKAS Website: www.kukas.info (in Turkish)
Patient Interactiın Center: hasta.kukas.info (in Turkish)